Meat Lovers Quintet 036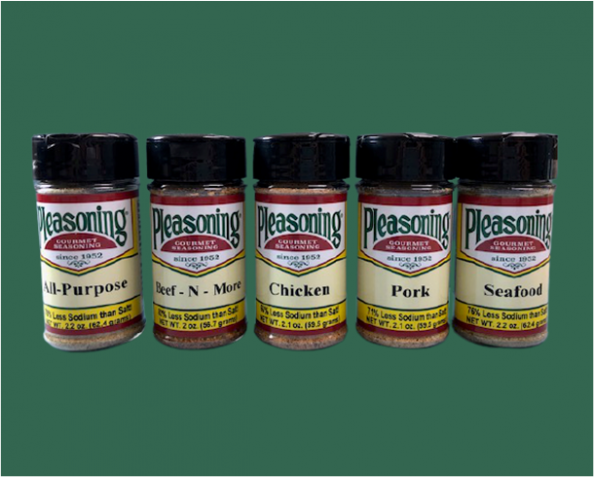 Overall Rating:





If you love meat you'll LOVE this combo. These seasoning blends can be used on any and all meats. All-Purpose Pleasoning is great on your prime rib, fish, beef roasts, hamburgers and more. Beef-N-More Pleasoning is a bold blend for hamburgers, steaks, brisket, pork chops, ribs, pork steaks, tenderloins, chicken, fish and more! Chicken Pleasoning is great on all kinds of chicken, turkey and even fish! Pork Pleasoning is used by many restaurants for their ribs, roasts, chops, and even chicken! Seafood Pleasoning gives your fish and seafood, even salads, a great flavor.
An $24.70 value if bought separately
Table Size Shakers of: All-Purpose, Beef-N-More, Chicken, Pork and Seafood
Pleasoning Gourmet Seasoning is proud to be a family owned and operated business, located in La Crosse, Wisconsin since 1952. Be sure to check out the "about us" tab to see our history. We are proud that all our seasoning blends are "all natural" and are recommended by Dietitians and Doctors all over the United States for those on low-sodium diets.
Sizes: Meat Lovers Quintet
Overall Rating:





Your Review
Pleasoning Gourmet Seasonings specializes in seasoning blends for everything from our popular All-Purpose Pleasoning to Bloody Mary Mix, Bar-B-Que Seasoning, Garlic-Garlic, Low-Sodium blends and more! We offer a number of seasoning blends, Combo Seasoning Packs, Dietitian Recommended Seasoning Blends, Gluten/Wheat Free Seasoning Blends, and MSG Free Seasoning Blends available.