Heat Lovers Quartet 035
Pleasoning Gourmet Seasonings specializes in seasoning blends for everything from our popular All-Purpose Pleasoning to Bloody Mary Mix, Bar-B-Que Seasoning, Garlic-Garlic, Low-Sodium blends and more! We offer a number of seasoning blends, Combo Seasoning Packs, Dietitian Recommended Seasoning Blends, Gluten/Wheat Free Seasoning Blends, and MSG Free Seasoning Blends available.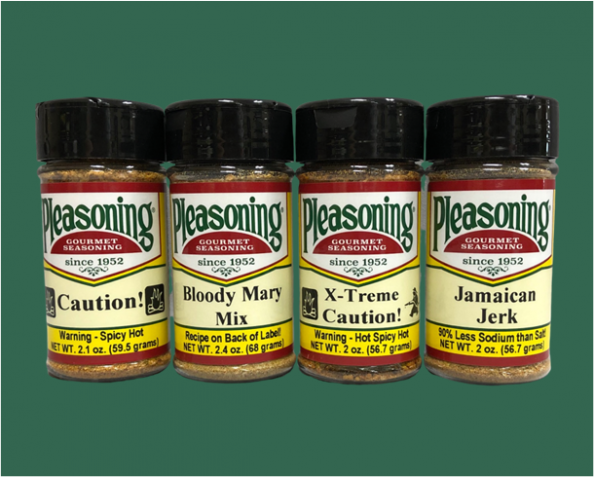 Overall Rating:





Exactly what the name says! Caution! Pleasoning is not created to burn, but it is a seasoning blend of spices with great flavor that leaves a "tickle" in the back of the throat. Bloody Mary Mix Pleasoning make a great and easy bloody mary; 1 teaspoon is recommended per glass (recipe is on the label) try it in your Chili. X-Treme Caution! Pleasoning is the big brother to Caution! Pleasoning. Same flavor profile with a little more heat. Tested at 15,000 SHU (twice of a Jalapeno pepper). Jamaican Jerk is the spice you have been looking for that great tropical flavor. Spicy hot combined with great flavor makes the the Heat Lovers Quartet for you!
$20.40 if sold separately
Table Size Shakers of: Caution!, Bloody Mary Mix, X-Treme Caution!, and Jamaican Jerk

Pleasoning Gourmet Seasoning is proud to be a family owned and operated business, located in La Crosse, Wisconsin since 1952. Be sure to check out the "about us" tab to see our history. We are proud that all our seasoning blends are "all natural" and are recommended by Dietitians and Doctors all over the United States for those on low-sodium diets.
Overall Rating:





Your Review